Testimonials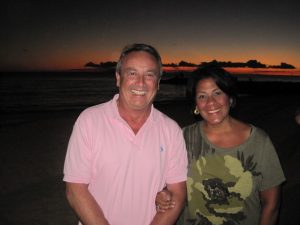 "We purchased a Regal cruiser last summer and we were very excited about experiencing the Delta. But we both realized the need to learn how to operate it in a safe and responsible manner. Kevo is a great teacher, and enjoys sharing his passion for boating. Now we feel more comfortable to go out and explore. We highly recommend Kevin for powerboat instruction."-Orazio and Anita
"Thank you for being a beacon for boating safety awareness! I look forward to the next issue."- Paul (Admiral Paul Zukunft, Commander 11th
Ditrict USCG)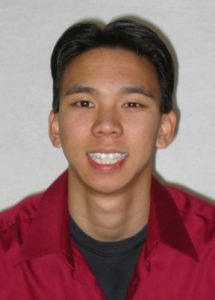 Any time you have an opportunity to get more boating education from a highly trained individual, you should grab it. Such is the rare opportunity here. Pacific Powerboating's training courses are designed to teach what every boat owner should know—newbie or veteran."-Kelly Lam, Executive Director of Western Boaters Safety Group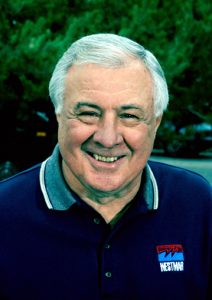 "Every boater should take a proficiency course similar to what is offered by Pacific Powerboating. They teach safety, emergency maneuvers and skills necessary for safe boating on the water. Kevo is doing a great service for the boating community and we reward his students with lower insurance rates."-Joseph Cecchini, Chairman of Westmar Marine Insurance Services
"As a novice, I bought the wrong boat for me, an inboard, single-engine, straight propeller shaft cruiser with a shallow draft, all of which makes it quite hard to maneuver. After an inadequate time of training, I tried to practice parking and immediately banged into a neighboring boat. At that point, boating was far from relaxing, and I seriously considered selling the boat. Capt. Kevo assured me that he could give me confidence about driving the boat, and he was very methodical about doing so. We practiced turns, backing up, and compensating for the wind, tides and currents. We maneuvered around a crowded Marina, did head-in slip parking and parallel parking. We practiced driving in the open water, including some simulated "person overboard" drills. He emphasized safety, rules of the water, how to pass Coast Guard inspections, and mostly how to relax. I'm not quite sure that it is true that 'you can't hurt anything at a-quarter miles an hour,' but it was reassuring to hear him say it."-Robert S. Fisher, M.D., Ph.D. Stanford Professor
"Thank you so much for the email and for working with us to make boating safer and the Coast Guard better understood. We are also learning more about the boating community, their perspective and more effective ways to communicate with them as well. Thanks again for your service and support.
I also agree the Power Squadron and the CG Auxiliary are a tremendous group of dedicated public servants who have a passion for safety. They and you
too have saved many lives through your collective efforts. Thank you!"- Rear Admiral Craig E. Bone, Commander, Eleventh Coast Guard District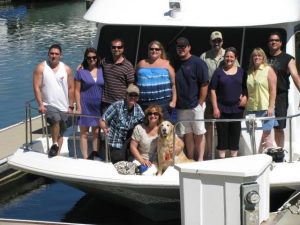 "We wanted to take our employees out for a day on the water but didn't want the stress of managing the boat while entertaining them. We asked Kevo to "Captain" our boat for an 8 hour tour. Kevo planned a beautiful 8 hour tour for our group which included lunch at Discovery Bay and a swim off of Mildred Island. He handled our boat beautifully, gave everyone a lesson in water and boat safety prior to leaving the dock and put didn't mind that we had a 4 footed friend aboard. It was a beautiful and relaxing day and one that we plan to do again with Kevo as our Captain."- Mary & Dave Kimmetz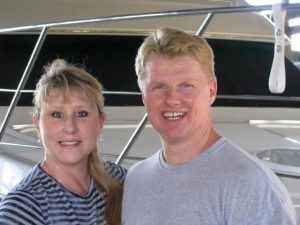 "We have been power boating together for over ten years, and I'm sorry we didn't take lessons years ago. We're both busy professionals who had not spent nearly enough time on the water in the past few years. Recently we traded our 29 ft. Regal for a 39 ft. Carver (behemoth), and I quickly learned how many bad habits I had developed, and how those bad habits are even more dangerous when operating a bigger boat. In 5 hours Kevo showed both of us how to maneuver more effectively in close quarters and to squeeze into a tight slip without damaging the boat, destroying the dock and possibly killing innocent bystanders. Taking the Coast Guard safety course and studying all the rules doesn't teach anyone how to handle a tough situation on the water without losing their cool. Kevo does that. He is an extremely experienced captain, and he knows how to teach. He even followed-up by telephone the next day with a few recommendations for our next outing. In short, he knows how to have fun, and he really cares about making us safer on the water."-Jeff W, 39′ Carver, Zatara
"Simply put Kevo is the man. I was taking delivery of a 320 Sundancer at Delta Yacht Sales on 7-1-11. I was having a problem finding a Captain to deliver the boat on a short notice, July fourth weekend to boot. Kevo had his boat anchored at Mandeville Island and jumped on his dingy and met me at Riverboat Marina. He did the same thing the next day for the second lesson and was always punctual for all the lessons. His style of teaching is unique and he's very knowledgeable. He's stern when necessary, but only in a constructive manner. He's got a good sense of humor too. I could not have been more satisfied with the overall experience and give him a 10 out of 10. He's not out to rip people off like some folks out there who require 20 plus hours when 12-16 is all that's necessary. He's going to sign you off once you have the competence required to be a safe boater and handler. Thanks a lot Kevo"-Mychael Pierce
"The kid went to college, we live in a great boating area, so I bought a 28′ Skipjack. But I had no idea how to operate it. Kevo's instruction was essential and invaluable. He taught me everything I needed to know in order to operate the boat safely and well, using a great teaching style, and a systematic, structured, step-by-step approach. He is unflappable, has what seems to be unlimited patience, makes the whole learning experience fun, and is just a really nice guy. His rates are ultimately reasonable (best money I ever spent), and as far as I can tell his service is entirely unique. And not incidentally, Kevo went way above and beyond the call of duty in several respects. I really appreciated this extra effort and have no doubt it is a true indication of his commitment to his customers and his business.
Admittedly I'm a beginner, and there is a lot to teach someone starting from scratch, but I'm sure that Kevo could teach a seasoned boater one heck of a lot of new, valuable stuff in a very short time. His knowledge is obviously very comprehensive. I'm passing on much of what Kevo taught me to my wife and daughter, who are having fun becoming active participants in running the boat. Time spent on the Delta and Bay is helping to keep the kid away from the big screen TV when she's home from college, and my wife out of Nordstrom. (The boat is building character and saving money!) I hope Kevo keeps doing this for a long time so he can help many more folks like he did me. Pacific Powerboating: Highly recommended, five stars"- Steve Mink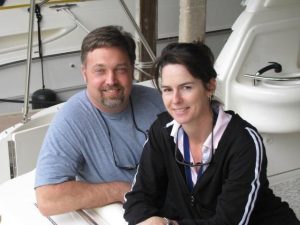 "I'm a do-it-yourself person, and like to figure things out for myself. Let me tell you, handling your first twin-screw sport yacht is not something you should try to figure out yourself. My wife and I spent six months of frustration trying to gain mastery over multiple controls, wind, and current. Finally, after being caught in a strong wind that nearly blew us into the shore at our marina, we realized we weren't going to figure it out on our own and called Kevin O'Leary at Pacific Powerboating. After our first lesson, we were on our way to handling our new boat with confidence. I feel comfortable saying he saved us from giving up boating altogether. You wouldn't buy an airplane and try to fly it without training, so why in the world would you buy a huge boat and try to pilot it without training! If you're new to boating, save yourselves some aggravation and call Pacific Powerboating. You'll be glad you did."-Dave & Jessica Weaver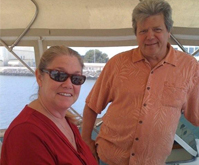 "While I have had my 36ft Gibson houseboat and cruised the Delta for almost 20 years, the jump to the 58′ Vantare' had me a bit nervous. Your instruction and calm assurances that we were doing things correctly, helped me relax and gain some of the confidence I'll need . During our close quarters maneuvering, it was nice to have Kevo standing there with just the needed pointers to get that big boat in and out of the slip.
All in all a very good lesson, Cindy and I are looking forward to many years enjoying the new boat and thanks to your lesson we were able to complete the required steps quickly and safely."- Mark & Cindy Miller, 58′ Vantare, Delta Swizzler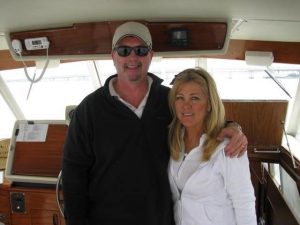 "My wife and I purchase our first boat, a 1970 47′ Chris Craft Commander, but needed instruction on how to handle her to meet our insurance requirements. As an avid reader of Yachtsman Magazine I knew of Kevo from his articles. After only 11 hours of instruction we passed the handling competencies and were release by our insurance company to 'sail' on our own. Without Kevo's expert instruction it would have taken much longer."- Kevin Colin, Alameda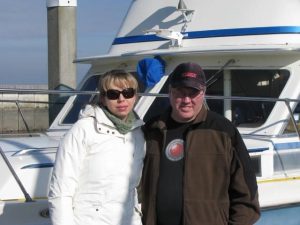 "My wife and I had recently moved up to a 36 foot powerboat with twin engines. We had several challenges with the upgrade – first, the boat was at Bethel Island and we needed to get it to Oyster Point in South San Francisco. Second, we figured we needed professional instruction with handling the boat in docking and close quarters, as we had never owned this size of boat and Oyster Point is well-known for being windy. Finally, we were new to operating on the San Francisco Bay and Delta and felt we could use some familiarization with issues unique to the area.
In our search for a boat we had heard many good things about Kevo and had read every article on his website. I called him to see if he would help me with the delivery to begin with, knowing that I would want more instruction later. Luckily he was available for the delivery; if he wasn't, I figured I would drive the boat home as it is well-equipped with radar and GPS. On the morning of the delivery, the Bay north of the Bay Bridge and the whole Delta was socked it with fog – I was so thankful that I had called Kevo as there's no way I would've gotten very far on my own. His intimate knowledge and long experience with every part of the delivery route was crucial to completing our journey safely. He is writing about the saga in an upcoming article.
Needless to say, I learned much watching Kevo on the delivery, everything from operation of the boat to best practices in getting around the Bay and Delta, as there are large ships mixed with small boat traffic and high-speed ferries. Later we had Kevo come for a follow-up session concentrating on close quarters and docking. His instruction was clear and calm, and he got us dialed in fairly quickly. That gave us the confidence to feel secure going out on our own, knowing that we weren't going to bang up our boat or someone else's when we came back to the dock. I'm sure we'll have Kevo back to help us fill in any other aspects of operation that we are lacking in.
I would recommend Kevo to anyone who needs boating instruction, whether they are new to boating or just moving up to a bigger boat. I also think that most recreational boaters could use a refresher course in many areas. Kevo knows his stuff and he is a great teacher; he is patient and understanding while making sure that his students learn what they need to know. Definitely money well spent!"- Matthew & Natalia V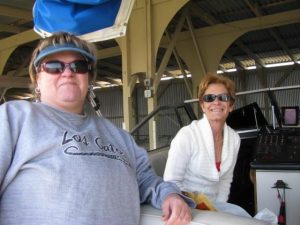 "My friend Debbie had her first boat lesson from Kevin O'Leary. I was able to tag along and listen to what Kevin was teaching her. I learn that boating on the Delta is a lot different than lake boating. You have currents and tides to deal with. Kevin showed Debbie how to maneuver her 27ft boat in tight places and how not to hit anything. He went over everything from the mechanics of the boat and Coast Guard regulations. Any one that loves boating on the Delta would benefit from Kevin's lessons. I will remember safety first, "slow like a pro, not fast like an ass." Debbie did a great job on her first lesson, thanks for letting me tag along. And a big thanks to Kevin! See you on the Delta."- Cindy Trumbull
"Being newly divorced, I was challenged with a 27" boat that I was able to motor on the water, however, had never berthed or docked. After 3 hours of instruction with Kevin, not only could I take this boat in and out of her berth, I now understand how to maneuver in a very tight area without hitting other boats. Kevin not only eased my anxiety of docking my boat, but, also taught me everything I needed to know about the boats equipment and Coast Guard regulations that I was unaware of. Kevin was very helpful in pointing out any deficiencies, such as dock lines, etc., that were on the boat that needed to be addressed to be a safe and legal boater. Kevin is a great instructor, very easy to understand and patient. I highly recommend anyone who is new at boating or has never taken a formal lesson to take lessons from Kevin he will teach you things you didn't think you needed to know.
Thanks Kevin, can't wait for the "Delta Tour"-Debbie Law
"Thanks for the instruction. You are a kind and effective teacher. I will have no hesitation to recommend you to any of my boating colleagues."-Dr. John Jones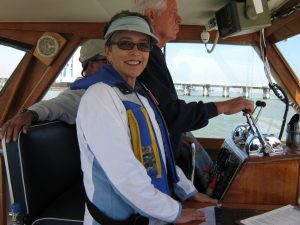 "I recently purchased a 44′ Pacemaker and discovered that the marina required a $300,000 liability policy on the boat. In searching for an insurance carrier, it came to my attention that in order to secure a policy, I needed to show that I was competent in its operation. While I have been around boats all my life and have owned several small power boats, I had never owned or operated a boat of this size. The insurance carrier required that I be certified by a licensed instructor in all phases of owning and operating my new boat. This is when I called Kevin O'Leary of Captain Kevo's Boating Instruction.
Contacting Kevin turned out to be the most rewarding boating experience I have ever had. Kevin began the instruction with a thorough examination of my boat and pointed out many minor, but important, discrepancies I needed to correct. We were soon on the water and I was quickly learning how to handle a 44′ boat with twin engines..something I had never done before.
Kevin was very personable and easy to understand. It wasn't long before I was doing close quarter maneuvers, spinning the boat 360 degrees left and right and berthing it. One day while we were out, the wind came up (20-25 mph). What a difference in operation. Kevin's style of teaching is very relaxed and comprehensive at the same time. I was able to make it through the windy day with flying colors and soon became comfortable in the boat's operation.
On the last day of instruction, we did a man overboard drill. I was able to rescue a life cushion in 45 seconds! We also were instructed in proper anchoring techniques and use of the marine band radio. I had to request a bridge opening and take the boat through the bridge.
Throughout the period of instruction, my wife, son and a neighbor were present and learned immensely from Kevin's instruction also. My whole experience was very rewarding. Today, I feel confident and am looking forward to many fine days on the water.
I would highly recommend Kevin O'Leary to anyone who is learning or wants to build on what they already know."–John & Bertha Walker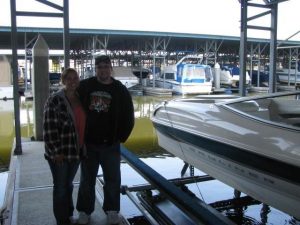 "Being new to the Delta, Amy and I bought a 20.5 ft bowrider and quickly discovered that the Delta is like no other place on Earth. We both have had some boating experience, Amy was a deckhand on a salmon boat in the North Pacific and I grew up with lots of friends and relatives that had boats in New England – but the first day out on the Delta, we snapped a prop with our 2 1/2 year old on board and it was not fun. I saw Kevo's flyer and gave him a try. Within 3 hours, Kevo gave us the confidence in our boat and the area that we needed to confidently go into the rest of the season. Kevo was friendly, knowledgeable and thorough. Kevo is like renting a good friend with 40+ years of local boating experience that really cares about your success. Well worth every penny! Thanks Kevo!!"-The DiaMaggio's
"The quality of the personalized instruction was awesome. Our need was to master close quarter handling with a new boat. Kevin quickly determined our needs and proceeded with the instruction in a professional manner. Our instruction started in open water and we worked our way to a confined fairway and onto docking. Kevin has a manner to instill confidence and skill building to his students while removing the stress associated with close quarter maneuvering."-Norm Pennington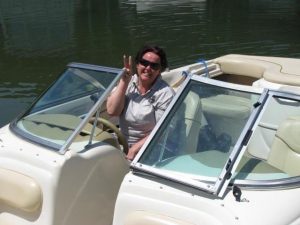 "I purchased a home in the Delta so that I could have a boat and be 'on' the water but I had absolutely no boat operation experience. Kevin put an end to all my anxiety so that I can enjoy my time on the water totally now. After thoroughly going over the basics about my boat, Coast Guard requirements and various safety concerns, Kevin started me out with one of my biggest fears; docking the boat. Jumping in and tackling this fear right away I believe, gave me great confidence and I was excited to learn more. He followed with some fast water instruction and finished with close quarter maneuvering, another apprehension. All the while instructing on safety and sharing some fun boating stories. I got more than what I was hoping for with Kevin's lesson. His approach is a relaxed one, which is what I really needed.
A Harbor Master friend of mine told me he was 'invaluable' and I couldn't agree more completely. Highly Recommended , 5 Stars! : )
THANK YOU! Kevin for your vast knowledge, patience, appreciation of a real beginner and mostly for your teaching approach. Reading some of your other testimonials I noticed that you have really helped many folks with various abilities from me; a true beginner, to some whom have many years experience. With so many satisfied people it is impossible to think there is anything you don't know about boating. Not everyone can be an effective instructor but you have the talent for it. I can't thank you enough!"-Krista, Bethel Island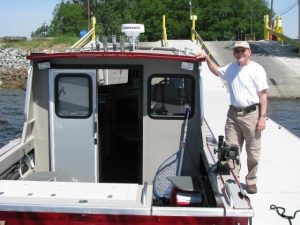 "I would like to compliment you on your great expertise and the professionalism you showed in the half day we spent together. In spite of the fact that I owned a "big boat" some years ago and have had 23′ ski boats for many years, the refresher course and tips you passed along to me during our outing was invaluable. Your techniques and knowledge in all phases of boat handling and navigation are worth far more than the cost of your services. In spite of being a boater and jet rated pilot for most of my life, I picked up much additional and valuable information and I thank you again."-Dr. Alan Brast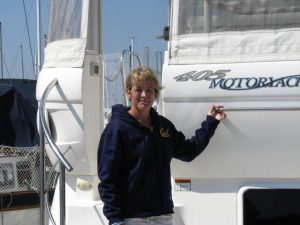 "I never thought I would be able to drive a 42 ' yacht. Especially in the SF Bay. When Kevo came to show me for the first time and explained everything so completely, I was amazed at how easy it was. If I didn't have to worry about the currents or wind I could turn that boat on a dime. He explained everything so I could understand. He gave me so much confidence, I felt I could drive it all by myself. When I took family and friends out they were shocked. Little old me driving a big yacht. I just laughed.

Thank you so much for teaching me not just how to drive my boat but boost my confidence also. I also drive my friends 19' ski boat with ease and he was so surprised."- Babe McCormick
"Not since flight school did I feel both the challenge and sense of accomplishment in learning how to operate a large piece of equipment. And it was Kevin who awakened this recollection in me as he took me through the ropes of operating my new-to-me 56′ Fun Country houseboat.

And though he'd never give a pink slip—surly I deserved some—he jovially turned mistakes into learning events. Apparent right away is his own systematic approach to learning: learning to operate a new boat—mine—and learning the local boating environment (what is parked where and what the near-by boaters are doing).

In following his lead, and making a check-list for safety issues, weather, equipment items, boating environment, and starting procedures, my learning was accelerated. His shared stories of his own experiences and of those told of life in and around marinas, of boating etiquette, of surprise weather changes and their affects, safety violations, and the goofy things people do all aided me immensely and quickened my comfort in the boating world. With Kevin's help and instruction, I now welcome that first Coast Guard Boarding and inspection."-Mike Shields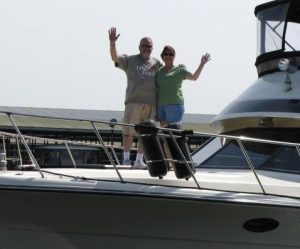 "Kevo, your professional instruction has done so much for our self confidence. We really don't understand why there isn't mandatory safety instruction for boaters as there is for automobiles. The self confidence that you get makes boating much more relaxing because surprises are kept to the minimum. And if a situation does arise, we have the knowledge to react sensibly and calmly. We had a unique experience during our anchoring instruction. We laugh about it now, but to protect the innocent let's just say it gave new meaning to the phrase "Anchor away!"
We strongly recommend Kevo to everyone who has not had professional boating instruction. His techniques work, and his professional, no-nonsense approach lets you come away with a feeling of accomplishment. Well worth the investment."-
Rob & Kathy Milkoski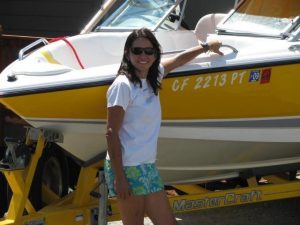 "I am a 47 year old mother of three that spent her life on power boats, always as a passenger, never at the wheel. When we purchased a vacation house at Lake Nacimiento , I realized I would be spending a lot of time on the water and finally needed to learn to operate a boat! The problem was… who was going to teach me! My husband is very good at operating a boat but a really bad teacher! Thank goodness for Kevin. He was the answer to my prayers! In one day, he taught me everything I needed to learn to confidently back the boat trailer into the water, operate the boat on the lake, dock the boat and finally trailer the boat after a great day on the lake! His patience, humor and thorough explanation of things made it very easy for even a novice like me to operate a boat with confidence. Three days later, after practicing what he taught me, not only was I driving the boat, but I had my son knee boarding behind it! Kevin is amazing!"-Roni Hodgkins Encino , California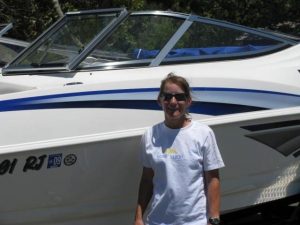 "Prior to purchasing my boat I had very little boating experience besides being the flagger or skier. I soon realized after I bought my boat that I needed additional instruction to become more comfortable with all aspects of boating so that I could take my family and friends out on the lake safely. That's when I contacted Kevin.
Kevin has a wealth of knowledge on all aspects of boating from trailering to the necessary skills needed once your boat is on the water. During the lesson he taught me how to back the trailer into a parking slot, down the launch ramp and into a garage at the marina. He also trained me on how to properly launch and retrieve my boat as well as the correct technique for tying the boat up at the dock. During the lesson I became confident in docking my boat and knowing how important it is to use the wind to your advantage. Remembering Kevin's motto "slow like a pro not fast like an ass" is extremely helpful whether backing the trailer or docking the boat.
Kevin is extremely patient and very personable. I would definitely recommend him to anyone needing boating instruction."-Penny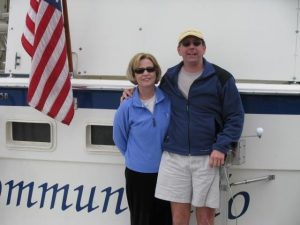 "Before Kevo's training our boating options were limited. My wife was not comfortable taking the helm. Kevo, with his patient demeanor and expertise, was able to quickly help my wife gain the confidence she needed to handle our boat. She has continued to use his training tips and is now comfortable behind the helm anytime including taking our 43′ boat in and out of our slip. Thank you Kevo." – Mark & Kathy Copeland
"We like our new marina and just wanted to drop a note and tell you how much we've enjoyed meeting you and to thank you for the time and energy you put into your boating lessons. Your professionalism and enthusiasm has helped us understand our boat and the surrounding waters better than we ever could have done on our own
Someone with a new boat or a much larger boat than they're used to would be wise to seek out your friendly hands on experience…on top of that….. you're even a nice guy and travel well and don't scare easily!!!!!!"-Skip & Yana Soder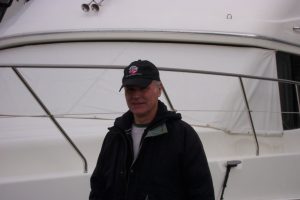 "I just got my 100 Ton Masters Captains License and realized that learning to drive a boat was not part of the exam. They taught Rules of the Road, and much more, and yes I can tie a Bolin and a Half Hitch. After much trial and error in driving, I tried searching the web for some help and discovered Kevin. Kevin is a brilliant teacher. Thanks to him I now know what I didn't know about driving a boat. Thanks Kevin! "- Captain John Brown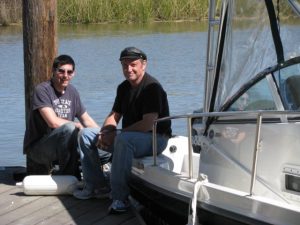 "I wanted to thank you for the very useful lesson we had the other day on the Delta. I wish you had taken us out the first time just after we got the boat; that little mishap with the rocks could have been avoided. I particularly liked the fact you really drilled us on the basics of three point turns. That simple exercise done in calm and current within the harbor was a good confidence builder. You have a good understanding of how much folks can absorb in one session but your many informative asides and references to your written works makes for a very full lesson. Audio documentation is a good idea. We'll be hiring you to take the big 6 hour lesson 'SF Bay Tour ' to learn the ropes out there soon."- Dave and Rob Gallagher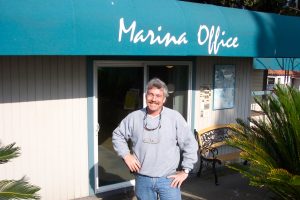 "As the Harbormaster of one of the most prestigious marinas in the Delta, it's important to me to that our berthers who are in need of on-board training have access to the best instructor available. I have recommended Kevo & Pacific Powerboating to many berthers. All have been more than satisfied with his services." – Tom Tate Harbormaster of Korth's Pirate's Lair Marina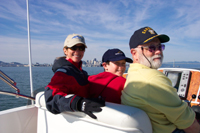 "Pacific Powerboating taught me how to handle our new 47′ yacht with confidence and proficiency in a very short time. Well worth the money!" -Chase Dekker (I'm the little guy in the middle)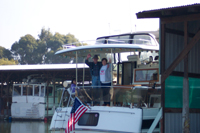 "Kevin is a great instructor. Very professional and intuitive. We highly recommend him to anyone interested in on-board powerboating instruction."-Mike & Barb Reeves
"I would gladly recommend you to anyone involved in boating of any kind. Thank you so much!"-Bill Tucker
"Kevin is a great boating instructor (and a good guy too!!!) He treated us with respect and was very patient and thorough. We highly recommend Pacific Powerboating for on boat powerboat instruction."-Zane and La La Schuller
"Pacific Powerboating has given me the opportunity to enjoy the Delta boating experience with knowledge and confidence. I was also able to obtain a discount on my boat insurance because of the excellent training I received from Kevin."-Bob Brown Discovery Bay.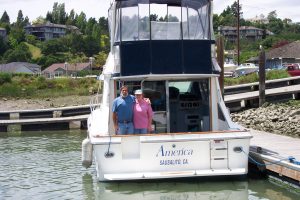 "Boating instruction on your own boat is the only way to go. Kevin helped us improve our confidence and expertise. We would recommend Pacific Powerboating to anyone who wants to improve their boat handling skills."-Marty and Joyce Siegan
"We recently had the opportunity to spend the day on the Delta with Kevo. He opened our session with his guarantee of not charging a fee unless we felt it was a productive experience. Within the first 30 minutes he had earned his money. The rest of the time spent with Kevo was a bonus! We would recommend him to anyone looking to strengthen their boating skills."-Phil and Debbie Vallejo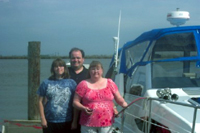 "Working with Kevo was the best investment of time and money with my new boat. He gave me the confidence and the knowledge to go out and enjoy the boating experience. He is a very good instructor and just a pleasure to work with."-Patrick Henley
"My wife couldn't believe how proficient I've gotten at handling our new 34′ Searay after just a few lessons from Kevo. Worth every penny!"-Gene Orcutt

2010 Update:
Gene Orcutt took boating instruction from Kevo back in 2005. He is very thankful for the outstanding lessons, and uses them regularly while boating in the Delta.
It seems like every time he takes his boat out, he encounters situations where Kevo's expert training really comes in handy, saving him from what could turn out to be disastrous! Here is one example of where panic turns into calm.

This summer Gene and his wife, Carrie made a safe trip from the Delta to Sausalito. Because of their boat dogs they like to back into the slip for easy on and off. While trying to maneuver the boat stern to the slip, they encountered a very fast moving incoming tide. After several frantic tries, Gene was panicking. His wife is a professional horse trainer, and understood exactly what he was experiencing.

She calmly said to Gene "Think about what Kevo would do in this situation". Gene immediately calmed down, pulled it together, and remembered from 5 years ago the training and safety tips he had learned. It was like Kevo took over the controls and Gene easily docked the boat, stern against the fast moving tide. Once again, thank you Kevo for all your expert instruction!
"Kevin showed a tremendous amount of patience in training us on our first boat (32′ Wellcraft, St. Tropez). He made the experience worthwhile and treated us "newbies" with a lot of respect. We highly recommend Kevin for first-timers as well as advanced boaters. He's a fun guy and superb trainer."-Derrick and Rhonda Daley
"Kevin made learning to use my 25 foot Sea Ray cuddy cabin painless, easy, and enjoyable! I now have excellent confidence, new skills, a thorough understanding of the way boats work mechanically and how they operate in the water. Overall, I am just unbelievably pleased…all this with NO previous experience and in less than 3 hours of instruction! I loved it so much that my wife and I are going to have him back for a lesson for her and a more advanced operational skills lesson for me!"-Robert White
"Kevin O'Leary and Pacific Powerboating are a tremendous resource for those seeking large boat instruction and navigation insight to the Delta. As a first time boat buyer of a 45 foot motor yacht, my biggest concern was the access to instruction that would make me a capable captain. After just 20 hours of instruction I feel nearly as confident in my boat as I do in my car."-Steve Zamolo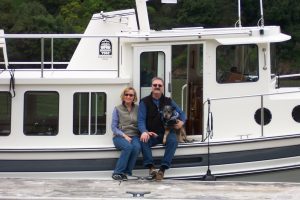 "Kevin's patience and expert instruction gave us the confidence we needed at the helm of our Nordic Tug. Our time with him was very enjoyable and productive. Even a seasoned boater could learn a few things from Kevin's instruction. We look forward to future lessons. Thanks Kevin."-Doar & Adele Greenman Nordic Tug, Lucky G
"Kevo is always our answer every time a buyer asks what they can do to get familiar with all aspects of using their new boat. We are very careful about who we refer our customers to. It is important that the business' professionalism and quality of service is on par with our own. Every client we have sent to Kevo has been more than satisfied, and was pleasantly surprised at how thorough their training experience was with him."

Chris Simpson
Broker/Owner
Antioch Yacht Sales
www.antiochyachtsales.com
925-757-6655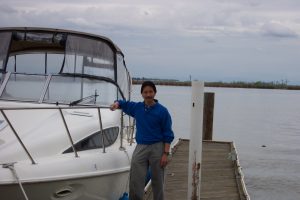 "Having access to on-board instruction was key to my decision to buying the yacht of my dreams. Kevo & Pacific Powerboating gave me the confidence and knowledge I wanted to safely operate my new vessel. I highly recommend Pacific Powerboating for on-board powerboat instruction."-Alan Wong
"I recently moved up from a 32 ft. to a 37 ft. Bayliner (a much bigger boat) and was hesitant to take it out. I knew I needed some instructions, but didn't know exactly where to find it. I saw Kevin's article in the Yachtsman magazine and the rest is history. He gave me the confidence and skill I needed to maneuver in close quarters. I would recommend him to anyone ."- John Buschman
"We met Kevin O'Leary while taking delivery of our new Meridian 341 NSB. We have been boating for many years, but this was our first big boat. He was very knowledgeable when it came to the questions that we had, and there were many questions. Kevin makes the lesson seem like "you're just going out for a day of boating," but what you actually get out of a session with him will impress you. He's the trainer that will teach you what to do if something goes wrong before it actually does. Wind in close quarters was a major problem for us, but after a few short hours he's got you spinning in circles in the tightest of areas with not as much concern for the wind because he taught us that the wind can be worked to our advantage. We recommend Pacific Powerboating to everyone. Definitely!"- Robert and Anna England
"If you have any doubt about what to do on the water, call Kevo. Do you want to handle a 50 footer like a 18, call Kevo. My ability to handle my boat after one lesson was a big difference, after two lessons was remarkable. My family acutely enjoys coming on the boat now. I look forward to going out and getting better because of the confidence I was able to get with Kevo. Thanks and Happy Boating!"-Bill Delaney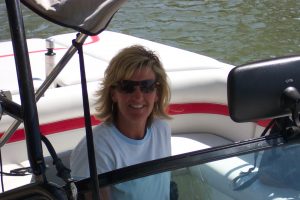 "My 40th b-day present was a 21ft. ski centurion. I wanted the boat but now that I had the boat I needed to learn how to drive it. The idea of my husband or one of his friends teaching me to drive did not thrill me. I have been married long enough to know my limits. Most people would probably not think of taking lessons to learn to drive a ski boat but it was the best thing I could have done. I definitely had to push my self out of my comfort zone to schedule an all day lesson with a stranger. My comfort zone soon expanded with Kevin's friendly personality and encouraging teaching style. I learned so much before the boat was even in the water. I launched, drove, learned the rules of the water, and so much more. My husband was impressed with how much I had learned and the confidence I had gained. Thanks Kevin!"-Alicia McCormick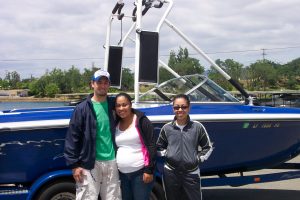 "Thank you very much. I feel much more confident on the water now !"-Mari Trejo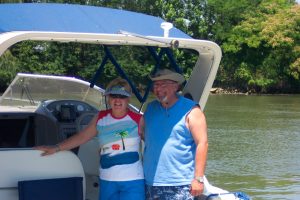 "Kevo is truly the "sensei" of boat instruction. He is patient, thorough, and personable. As a new boater, I was not only concerned about learning the basics of boating, but also apprehensive about navigating the Delta. Besides teaching all fundamental boating skills, including rules of the road, close quarter maneuvering, docking and anchoring, Kevo took us from Byron to Walnut Grove and everywhere in between Kevo's assessment of our boat's condition, his post-instructional notes, and his suggestions for additional necessary equipment for safe and comfortable boating were invaluable. After our course, my wife and I consider Kevo both mentor and new friend."-Arthur & Nancy Solomon

"After being away from boating for 35 years, I purchased a 30 foot twin engine express cruiser. I damaged it on the maiden voyage while attempting to dock in an extremely windy marina (my home berth)

At that point I was afraid of my own boat. I called Kevin & he reassured me that I would master the vessel after a few lessons. I decided that I wanted more than a quickie afternoon of instruction. I engaged Kevin for four 3-day weekends & concentrated on close quarter maneuvering.

It was money well spent. I am now confident that I can handle my vessel & am on the way to becoming a competent boater.

It was a pleasure dealing with Kevin. He was competent, caring, punctual. Not only does he know boats but he knows how to teach that skill to others in a language that is understandable. He analyzes mistakes & makes you understand why things went wrong. That is more valuable than doing it right by luck. He is very organized & gives you a report card/summary of the day's lesson which you can refer to, I was sad when the lessons ended but I expect that Kevin will remain a friend for life "- Arnold Goldschlager, M.D.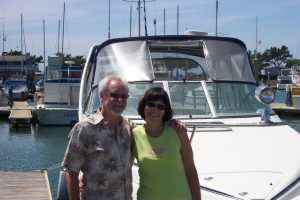 "Thanks for all your help and expertise yesterday, we both had a great time and learned a lot. I know that my confidence level has increased tremendously – particularly in close quarter maneuvering and docking. We will most certainly visit the harbormaster's office and tell them how valuable we felt that your services were.
Thanks again!"- Clive & Judy Snedke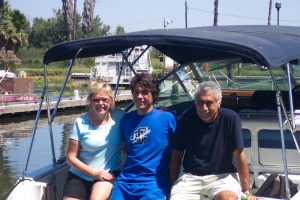 "When we purchased our long term dream of finally owning a power boat our family could enjoy, we did not realize that we were intimidated and almost afraid of operating it. But when someone gave us a copy of the Yachtsman magazine to read, we noticed your article. We asked our harbor master about your training services and they said you had a great reputation as a top level power boat training instructor. We thought about calling you for a few days and we knew the weekend was coming up and we wanted to take the family to the boat, but didn't know how to operate it! After we called you and set-up our first lesson, I felt that my boat would not sit in its berth for the rest of its life. That there is a possibility that our whole family would be able to operate it. You said that your first lesson would be to learn close quarter maneuvering. Oh my goodness! You can teach me how to get into and out of my very tight berth? Kevin said, yes that and other important maneuvering techniques and safety measures you should know when you own a boat and to learn to have fun with your boat. We set-up two lessons. After our lessons, we all felt that Kevin taught us how to truly enjoy our boat! The best thing we could do for our family was to have Kevin help us develop our all around confidence in operating our boat. I'm very happy that our 20 year old son has learned how to operate, be responsible and safe all at the same time. As for me and my husband, we go out in the boat, I drive sometimes and he drives others and the boat has actually brought us together. We now have a life long sport we can all have fun with and at the same time be a responsible, safe boat owners. Thanks Kevin, we now LOVE OUR BOAT!"-

Dr. Magdy Girgis, Cyndi Hilton-Girgis, and Zack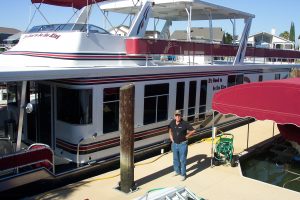 "I bought my dream boat, a Sharpe house boat which is 71ft x 16 ft. and my boating experience has been limited to 22 ft. Cobalt. It's a little like learning to fly in a 747. I really was uptight taking out the boat and desperately needed some instruction, docking and anchoring was a real challenge, I saw Kevin's ad in The Yachtsman and hired him his was the best money I ever spent. Fortunately I have both stern and bow thrusters which make docking a lot easier; never the less, both docking and anchoring made me nervous as 71 ft. of boat is a lot of boat to handle. Kevin showed me the proper angle to approach my dock and various techniques on boat docking. I was really nervous about anchoring as I never anchored a boat of this size, so we took the boat to Mildred Island and practiced anchoring both bow and stern anchors. I have no fear about anchoring now thanks to Kevin. If you feel overwhelmed with too much boat, Kevin is your answer. Thanks again Kevin!"- Richard Pontes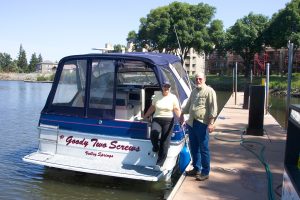 "Kevin was recommended to us by Tower Park Boat Sales when we bought our first boat, a 32′ Bayliner Avanti. Having had no prior experience, we truly appreciated Kevin's patient and down-to-earth approach to covering the basics of boat ownership and operation. He remained cheerful and unflappable throughout our training, even during work on close quarter maneuvering. His practical tips on everything from ensuring we put gas in the gas tank and not the water tank to tying knots to yacht clubs were exceptionally useful. As a result of taking his course, we were able to purchase the most comprehensive marine insurance. We are so glad that Kevin was available to be our mentor, and we would highly recommend him to anyone just starting out or wanting to polish their skills."-

Bob and Ann Sparks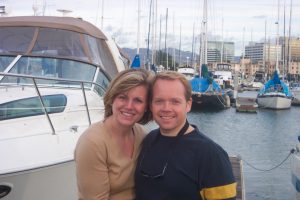 "When we bought our first boat (Doral 32′), we didn't know the difference between a helm and a head. Kevin took us through every part of our boat, and truly made us believe that no question was a dumb question. Kevin gave us an education on more than just driving a boat, but also took the time to talk maintenance, yacht clubs, marinas, the Delta, where to get the cheapest gas and just about anything else we might need to navigate Northern California water in a safe and fun way.

We are extremely happy with the lessons we learned from Kevin, and we would highly recommend him to anyone who has the desire to become a power boater in Northern California."-Matt & Sara Gregory
"Sandy and I are very pleased with your instructions; extremely beneficial and covers the aspects of our boating training that we were looking for from an instructor. Also, we always felt very comfortable working with you and were very pleased that you recognized we were novice in the "big" boat arena and we never felt you overwhelmed us or made us feel inferior. Excellent program which I would recommend for not only novices, but a good refresher for more experienced boaters as well. We are looking forward to working with you on other aspects of the boating world as time goes on. Thanks for a wonderful experience"-J

ohn & Sandy Smith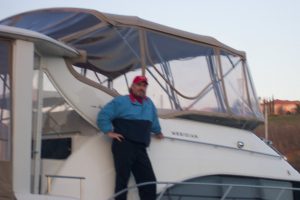 "I thought purchasing my first pre-owned boat was going to be the hard part…Boy was I wrong. Once I finally decided on the year, make and model ('04 Meridian 408), negotiated the price and had it delivered, the fun was just about to begin. WRONG! I was so overwhelmed by the size, systems and noises; I didn't know where to begin. Luckily for me (I didn't thinks so at the time) my insurance company put a restriction on me get some instruction prior to soloing. Being frugal (not good for a boat owner) I was pissed to say the least. I saw the Pacific Powerboating ad in the Yachtsman and was drawn to Kevin's money back guarantee. Let me tell you, he will never have to give a free lesson! Kevin's practical method of teaching is invaluable to the novice or experienced boater. He dissected "MY" boat from stem to stern and taught me things that would have taken me years to figure out. His curriculum is so incredibly organized and thorough; we were able to cover the most amount of material in the shortest possible time. Kevin takes boating very seriously, but has a technique of teaching operation, safety and responsibility in a very enjoyable fashion. In short, the few extra dollars I was forced to spend, has been the best investment so far. I highly recommend Kevin O'Leary as your next personal boating instructor. A true professional and a resource of "all things boating". Kevin thanks for all of your help and giving me a new friend in boating!"-

Greg Kaufman, DC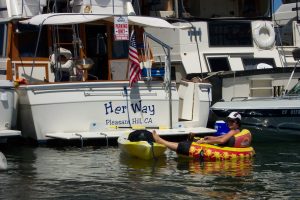 "As a wife, most "Admiral's" like myself would be intimidated by having their own husband teach them to drive their boat. However, my husband Kevo showed the patience and cool demeanor that he does to his clients when he taught me to handle our 38′ Bayliner, which is a beast of a boat to handle. Never would I have imagined that I would learn how to take our boat in and out of its slip, but also spin it around in circles in very tight quarters without hitting a thing (and enjoying every moment of it!). However, the most amazing thing is that all of the time, Kevo was cool and collected and never yelled at me once!! 🙂 Kevo hopes that one day soon that me and my girlfriends can take the boat out without him and cruise the Delta. Now that is confidence in his teaching! Thanks Sweetie! Your loving wife (and new Captain, perhaps??! HA!!)
"-

Susan O'Leary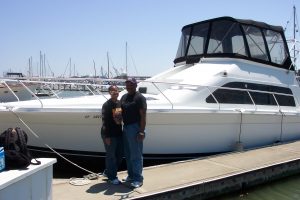 "Kevin is an outstanding instructor and very patient. He is also fun to be with, very knowledgeable and taught me and my wife how to handle my 41 footer quickly. I would recommend him to anyone for lessons. He is well worth the money spent."-Lloyd & Kecia Leroy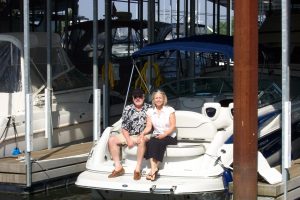 "With much gratitude and pride we are students of Pacific Powerboating. Kevo has made a dramatic difference in our boating lives. We have gone from high anxiety to smooth confidence because of our hours spent with Kevo. He has a unique teaching ability and we had our need to be taught, a perfect match. It is always a grand adventure with Kevo on board. Thank you, and we know we will see you again soon."-

Bill and Karen Mc Gillivray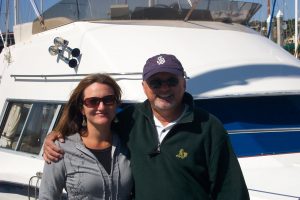 "Kevo is a great instructor, very easy to understand, extremely patient and has a wealth of knowledge. My father and I truly enjoyed our lessons with Kevo and now feel confident enough to navigate our 28ft Bayliner anywhere in the bay. I highly recommend anyone who is new at boating or is upgrading to a larger boat to take lessons from Kevo, he will teach you things you didn't think you needed to know. ."-Joe and Guenevive Defigueiredo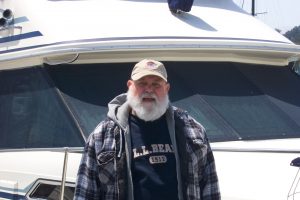 "I really enjoyed Kevin as a teacher he took his time to explain and make corrections every time I made a mistake. He was very knowledgeable about boats and made sure that we were safe at all times. The most important thing is to operate your boat in a safe manner as to not be a hazard to others and Kevin makes sure that you are as well trained as can be. He never told me about more lessons, but when I asked, he was more than honest. The extra lesson made me a much better boater and on the water. It's the old saying, only you can prevent accidents. Thanks!"-

Roger Beem member United States Power Squadron ( Marin )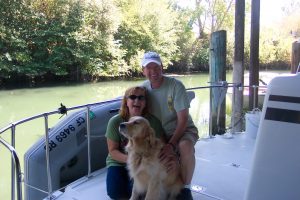 "Dave and I were quite impressed with the training that you provided. We felt very comfortable working with you.Your knowledge and expertise were impressive. Thank you again and we will let you know how we do!Dave and Mary Kemnitz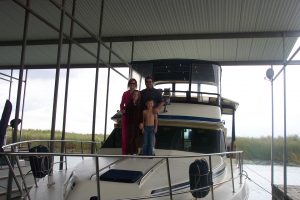 "After taking Kevo's course I feel very confident in taking out our 41′ Aft Cabin. Kevo went over all aspects of safe boating and having the proper gear on board. Also the lesson taught my wife and I how to dock our new boat. Docking was an important skill to learn due to the tough current in the marina we are berthed in. Operating a boat of this size is a whole new world compared to our two other smaller boats. Thanks again Kevo for giving us the skills to be safe and prepared for handling our boat. See you on the water."-

Jason & Heidi Hallenberg
"Here's the deal. I purchased my boat, Great Escape, about 3 years ago. She is a twin diesel Nova, 36′ and not that tough to handle. Having said that, I had very limited prior experience on the water and was somewhat intimidated, especially in the somewhat adverse conditions that are often encountered in the Bay Area. I had a few hours of on-board instruction to learn the basics, as well as attending and passing all of the coast guard classroom courses. Unfortunately, that did not really do the trick, and I ended up treating the boat as a floating condo, with few excursions out of my berth. Finally, my insurance company, with which I had been very forthright regarding my lack of experience, threatened to withdraw my coverage unless I was deemed to be competent, by either a licensed captain or an otherwise acceptable instructor.
I initiated web searches to find someone who could provide the foregoing requirements. I wasn't having much luck until I ran across Kevin O'Leary's ads (aka "Kevo") in the Bay and Delta Yachtsman publication, advertising his company's (Pacific Powerboating) instruction services and his prior success rate with incompetents such as myself. I immediately contacted him, and the rest is history.
Kevo's instruction technique is based upon verbal hints while the student performs specific maneuvers, particularly in tight quarters. It's not high pressure – he is there to assist and takes control only if the situation is headed towards a mini-disaster. All of this is accompanied by a dialog stream related to his somewhat nefarious past and present, which I believe is a deliberate method of testing the student's attention span in demanding situations (although he does have the gift of Irish gab which he enjoys delivering; I don't believe he has to practice this particular technique). After several excursions – which included, on the last day of instruction, a six-hour voyage beneath the Golden Gate, then to Pier 39, South Beach Harbor, Jack London Square, Treasure Island, Angel Island, and back to our Sausalito starting point. We thereafter proceeded to celebrate my "graduation" and diploma presentation by sharing an Amstel Lite.
In addition to the on-board instruction, Kevo performed a complete inspection of Great Escape particular vessel and pointed a couple of problems that required correction; bottom line, he will not provide a sign-off until any significant deficiencies are corrected.
I cannot speak too highly of the value I received from the overall experience with Kevo. My confidence level has risen 100-fold, and my insurance coverage is maintained. And besides, he is a great guy! I heartily recommend his services, with no reservation whatsoever."–Dan Crosser, Owner – Great Escape
Ex Tridens Scientia: From knowledge (comes) sea power
"With the recent purchase of a 32 ft bayliner, I was looking for a short cut to understanding the boat systems and handling. Kevo turned out to be a great choice to gaining the knowledge I was looking to get.
With very personalized instruction, we went into the boat itself and got a better understanding than the limited bayliner owner's manual provided. Changes and modifications were clearly pointed out and polished with his experience of these boats. This alone saved many hours looking for maintance and operation information (if you could have found it.)
The time on the water established good boat handling training that a book cannot provide. Maneuvering a boat in close quarters requires good training because damage and embarrassment around a marina can ruin a really good day on the water. This is more than a short cut; it sets a skill set for future safe boating. I found Kevo to be an excellent instructor with a doctorate of boatmanship."–Don Seyk